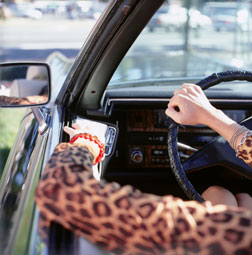 Despite the agonizing fact that the official start date of summer isn't until June 23, we've already had a few waves of summer-like weather in my neck of the woods. Its days like these that energize and invigorate the lion's share of us who live in areas with over 225 days a year of "gray" weather, and these nice days deserve their due.

With that said, every Tuesday and Thursday until the official start of summer we'll bring you an ode to the signs of summer, one marvelous item at a time. And PS – we would love it if you would pepper in your thoughts as well.
Today we pay homage to driving with the windows down.
Barring those days when the thermostat reaches 90 degrees, give me the choice of having the windows down or turning on the air conditioner and I'm choosing the windows nearly every time. There's something very primal about it: the wind, the noise, the commotion – it's kind of a freeing feeling for me.
Don't misunderstand; I value the perks of A/C, with its ability to keep one's hairdo in place, its support of hearing the radio and its skill at keeping documents in order. My problem is that it feels stifling most of the time... it's just not as fun. And it always has that weird smell when you first turn it on.
And what's summer if it isn't putting all the windows down and blasting Tom Petty, singing "Here Comes My Girl" at the top of your lungs?
I did have one unfortunate incident last summer when participating in this ritualistic endeavor – a bee flew into my car during the second chorus of "Refugee." That's right, here's me, belting out the "oh" and the "yeah" – hand up, getting ready for the "little like a Refugee" – and BAM, something hits my wrist. I seriously thought I was shot with a BB gun at the very least. I'm looking for blood on my clothes it hit me so hard.
And that's when I see the bee on my floormat.
Oh. My. God.
Believe me when I tell you, this was no ordinary bee. This was like the jock big brother bee who plays bee football and picks on his bee siblings and peers. This bee wore a leather jacket and mocked his bee teachers in front of the entire class in high school. This was one of those bees that could get a $10 haircut at BoRics it was so freakin' fuzzy.
I just threw up a little thinking about it.
Long story short, I frantically pulled my car off the road nearly into a white picket fence. The ensuing spectacle was reminiscent of the famous scene in "Tommy Boy" ("Bees! Your firearms are useless against them!"). I then took off my shoe and beat the pretty much already dead bee… well, to death I guess.
But did this one incident stop me from enjoying one of my favorite aspects of summer? Hell no! All right, maybe for like a day or two, but after that, the windows went back down. That bee taught me… well… that I was REALLY scared of bees.
And that life's too short to live with the windows up all summer.
Have fun guys and girls. Come back and Ride with us at 4 o'clock.