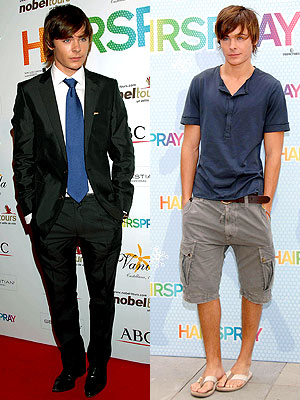 Despite the agonizing fact that the official start date of summer isn't until June 23, we've already had a few waves of summer-like weather in my neck of the woods. Its days like these that energize and invigorate the lion's share of us who live in areas with over 225 days a year of "gray" weather, and these nice days deserve their due.

With that said, every Tuesday and Thursday until the official start of summer we'll bring you an ode to the signs of summer, one marvelous item at a time. And PS - we would love it if you would pepper in your thoughts as well.
Today we pay homage to wearing shorts and flip flops.
*Please disregard the well dressed portion of the Zach Efron picture above.
As a somewhat style-impaired, slightly apathetic and overbearingly thrifty (cheap) twenty-something, purchasing new, fashionable clothing is not the highest priority once the bills are paid every two weeks. Come to think of it, I'm actually getting to the point where I have "good" and "bad" undergarments, which is a clear sign that I need to bite the bullet and hit me up some Kohls, TJ Maxx and Ross Dress for Less (I told you I was cheap, right?).
Anyways, summer provides a fantastic three month window where I can rotate two pairs of shorts and a pair or two of flip-flops and never think twice about it. It's almost like summer gives many people (mostly guys - but I believe ladies can get in on the fun as well) a free ticket to lazy, comfortable apparel.
Now, some who know me might argue that lazy, comfortable clothing is my modus operandi regardless of season. I am, in fact, a jeans and tee shirt (or polo shirt) kind of guy - but shorts and flip flops feel different for some reason. Shorts and flip flops = carefree relaxation… unless it rains really hard… then they = wet feet and and a sour look on my face.
My favorite pair of shorts has to be these tan cargo shorts I bought at Goodwill like five years ago. They have a drawstring even though I prefer to wear a belt, but I still let the drawstring hang out to give it an even more casual look. Flip flops come and go every summer for the most part, which I love. I buy a cheap pair in early June and just wear the crap out of them until September or so. Perfect.
I'm sure this shorts and flip flops summer fascination is entirely in my head, but that doesn't mean I don't enjoy the laid back vibe it provides any less. Good times.
But man, have you ever tried to run in flip flops? Dangerous and embarrassing.
We'll see you at 4 p.m. for your Ride Home links. Take care.